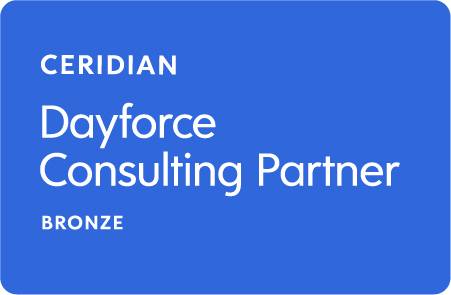 Human-friendly, technology-driven change
Ceridian Dayforce –
for better Human Capital Management
At Adaptalytics, we explore business goals through the employee experience lens, redefining processes and creating outcome-led, people-centric change. Whether you're just starting out with Ceridian Dayforce or a long-time user, our perspective and resources run enterprise-wide, so we can go all in and deliver end-to-end or optimize what you currently have.
Adaptalytics  business-led approach and deep, industry-specific HR transformation, change management and human capital management experience—powered by Ceridian's Dayforce suite of products—enable businesses to:
Align costs with business strategy: Ensure HR capabilities, resources and spending area aligned with critical paths to growth
Provide real business insight every day: Provide business leaders with timely, relevant and actionable information to drive business performance
Support talent growth strategies: Help the business evaluate and close talent skills gaps from internal and external talent pools
Create an optimal structure to support the business:  Determine the best structure, roles and delivery model to support HR strategic objectives
Maintain standard, efficient processes: Design standardized processes that yield substantial efficiencies, along with the governance mechanisms needed to sustain them over time
Redesign HR for the digital age: Successfully implement a customer experience strategy to automate engagement and provide insights, attract and retain top talent through insights and increase productivity.
We believe the key to unlocking the value of HR is seeing it as an ongoing journey. It is entwined with company culture and attitudes, but, most importantly, its goals are always changing.
As a certified partner of Ceridian, Adaptalytics has helped customers achieve all of these goals and more. Contact Us (link to contact us page)  now to see how we can assist you achieve your future vision for the workplace.